Chain Reaction - 20th February 2023
Web3 Innovation Centre, Meetups, and more
First up it was great to get back on ausbiz this week and seeing co-founder Mark Monfort on stage with Stone & Chalk CEO, Michael Bromley. They spoke about the Web3 Innovation Centre that's launched and which has already been receiving residents from the community - https://www.ausbiz.com.au/media/the-web3-innovation-centre?videoId=27151 
We also saw the Aus DeFi Community podcasts back on board for 2023 with host Shahirah Gardner back with this piece talking to Shane Verner from Fireblocks (who power a lot of crypto infrastructure here and globally). Check out that interview here (and don't forget to like, share and subscribe)
We were also in the web3 media with The Chainsaw showcasing this piece on government crackdowns (Kraken, Paxos, who's next?)  https://thechainsaw.com/defi/crypto/sec-staking-crackdown-crypto-ethereum/ 
In Melbourne, we saw Chapter Lead, Nick Bishop in town moderating a talk for the Drift Protocol/Magic Eden/Solana event (all as part of the 2 month long hacker house/coworking space they're putting on). See him in action in this link
We also joined this Blockstars Technology podcast with Liam Hennessy from Gadens talking all things compliance, regulation and Token Mapping - check it out here https://twitter.com/i/broadcasts/1zqKVPWBVQlJB 
This coming week we've got our first in-venue Aus DeFi event in Sydney with details here just in case you've missed it https://www.meetup.com/australian-defi-association/ 
OTHER NEWS
Next, it was the crackdown on Kraken's staking services and now it's Paxos in the SEC crosshairs being accused of violating investor protection laws - https://www.wsj.com/articles/crypto-firm-paxos-faces-sec-lawsuit-over-binance-usd-token-8031e7a7 
Over in the UK, we also see issues with crypto as banks block access to crypto transactions for customers citing fraud and volatility
https://www.coindesk.com/policy/2023/02/07/uk-banks-blocking-crypto-access-given-fraud-volatility-lawmakers-told/?utm_term=organic&utm_source=linkedin&utm_content=editorial&utm_medium=social 
This is despite illicit activity in crypto being less than 1% (according to data from crypto analytics firm, Chainalysis) and this being lower than what the United Nations reports as what money laundering makes up of global GDP - https://www.unodc.org/unodc/en/money-laundering/overview.html 
Also see this thread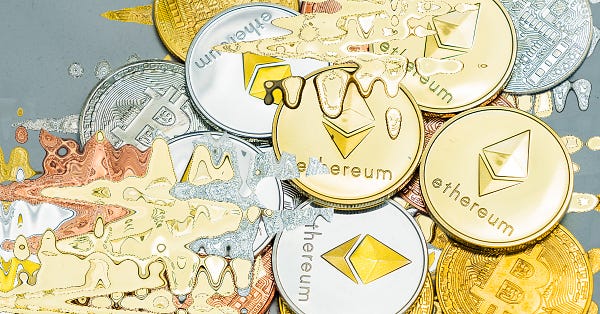 thechainsaw.com
The SEC Cracks Down on Staking: What Does This Mean For Crypto?
The SEC's crackdown on staking could spell disaster for Proof of Stake blockchains like Ethereum. Here's what could happen.
SEC versus Do Kwon just dropped as well
Expect more like this to happen soon. Bad actors, be gone.
Issues at the crypto casino (created by Aussie co-founders), Stake.com with accusations of embezzlement from former contributors trying to take them to court  https://www.afr.com/technology/aussie-crypto-billionaire-alleges-ex-associate-embezzled-millions-20230212-p5cjvq 
Web3 gaming news and Unagi (known for Ultimate Champions Football) raised $5m from Sisu Game Ventures. They have partnerships with real world football teams and look to be expanding into other sports. https://www.theblock.co/post/212135/game-studio-unagi-raises-5-million-to-expand-ultimate-champions-and-move-beyond-sports  
Have you heard of Ordinals? They're the new tech that many are talking about as they give the Bitcoin blockchain the ability to have a type of NFT (called a 'digital artefact'). More on that here
An interesting one here on the future of work with Regen (their founder John Paller is also the founder of ETHDenver)
Also, Andre Cronje is back folks, the good parts of the market keep calling him back and he brings back the positive scepticism
and finally, here's a question to leave you with… are stablecoins securities?
Thanks for reading Chain Reaction! Subscribe for free to receive new posts and support my work.